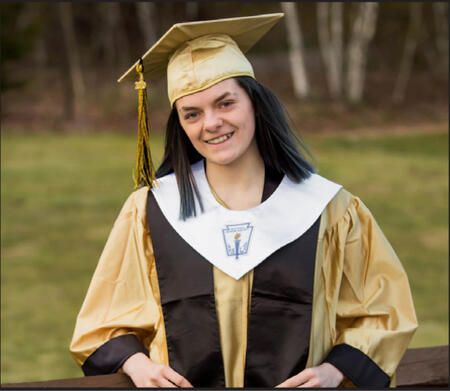 Photo courtesy of Bear Facts, Mahanoy Area School District's school newspaper.
mahanoy area school district v. b.l.
a student's right to free speech
By Greta Miller, Rylee Dang, Jacob Welsko, Madison Mauro, Ari Bowman, and Eleanor Creelman
---
On a Saturday night in a parking lot convenience store, Brandi Levy sent out an angry snap. The rising sophomore at Mahanoy Area High School dropped the f-word about school, cheer, and soccer.

While the snap disappeared, one cheerleading teammate took a screenshot that 2017 night. The result? A one-year suspension from the team -- and a nationwide discussion on whether school administrators can punish students for free speech for what they say off campus even if it is not harassing, bullying, or cheating. The district, which has lost twice, maintains it can.

It is a landmark case -- just 38 miles from Emmaus High School -- that potentially threatens the First Amendment rights provided in Tinker vs. Des Moines. The Supreme Court of the United States is expected to hand down the final ruling on a dispute that started four years ago, just outside of the Cocoa Hut in a town of 4,000 in Schuylkill County.
---
From The STinger
Get to know the case and read several student perspectives.
---
New Voices
As student journalists, freedom of speech is vital to our work. Although the 1988 Supreme Court Hazelwood v. Kuhlmeier decision allows schools to regulate content for the high school newspapers they sponsor, The Stinger is incredibly fortunate to have a platform by which we can share our work and opinions.

New Voices, a student-powered nonpartisan movement of state-based activists, are actively fighting to protect student press freedom with state legislation all across the nation.

To learn more about New Voices, click here.